Welcome to San Marco Catholic Church
A HEARING FRIENDLY CHURCH – TRY OUR LOOPING
San Marco Roman Catholic Church is a Catholic Christian Community, nourished by the Spirit, blessed by our individual gifts, walking on a journey to God.
Together we celebrate the Eucharist, and proclaim the Gospel, serving God and neighbor.  Jesus welcomed all and all are welcome here at San Marco.
Our Ash Wednesday schedule is: 7:30 am, 9:00 am, 10:45 am, 12:30 pm, 4 pm & 7 pm
Read More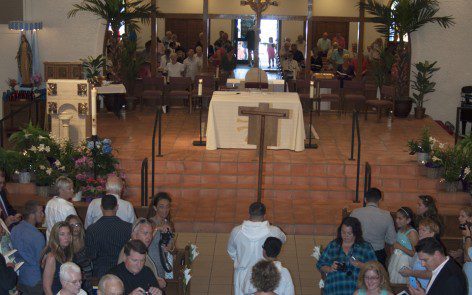 San Marco Church is pleased to announce the installation of a "Hearing Loop System" in the Main Church, the East and West wings and Chapel.  The hearing loop provides a magnetic, wireless signal that is picked up by the hearing aids and cochlear implants when they are set to the "T" (Telecoil) setting. For those […]
Read More
Everything you need on your phone. Mass readings, prayers, videos for kids, videos for teens, adult reflections and so much more!
Read More