See Hurricane Relief information and ways to help.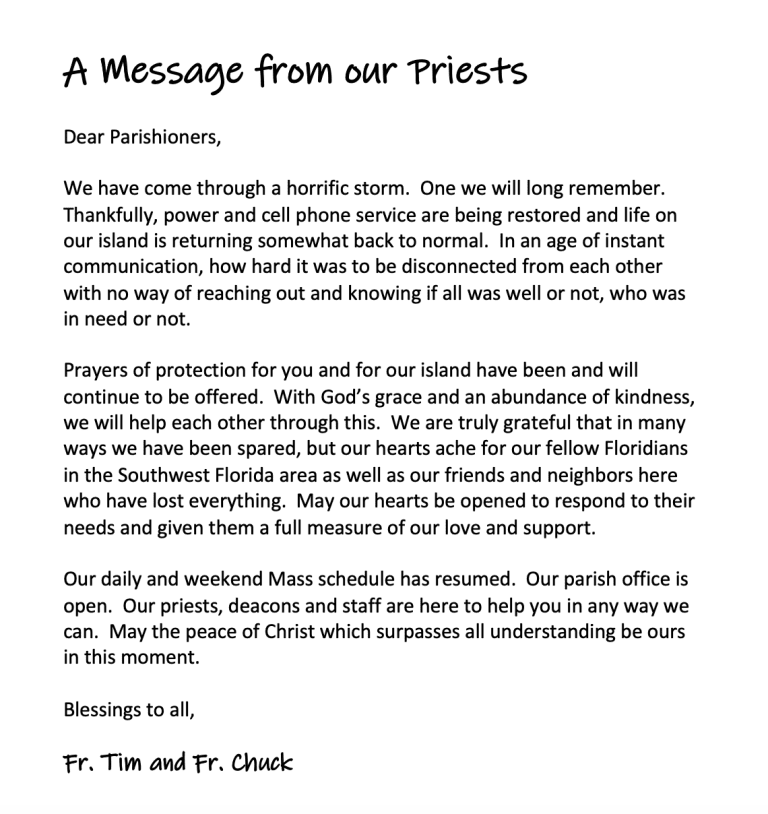 Let us know how you are doing or if you need help.  Click here for the survey.
Donate to Parish Hurricane Relief efforts to help Parishioners and Marco Island residents.
Our office phone and internet is down and we're connecting by text.  Text UPDATES to 239-326-6796 to get added to our list.
We know lots of people lost their cars and rentals are hard to find.  Crabby Cabbie 239-317-8520 and The Wave 737-843-9283 are offering free local rides (tips only).
Click here for FEMA Shelter Assistance Plan  
HURRICANE IAN COMMUNITY RESOURCE LIST
 Resources Information and assistance 
fema_disaster-product-text-message-sheet
Help with rent and utilities please apply online at Saint Vincent de Paul: 
https://svdpnaples.org/assistance-services/
Catholic Charities Disaster    https://catholiccharitiesdov.org/distributions-and-donations-sites/
Easy Steps Application for Hometown Heroes Assistance