First Communion
Preparation for First Confession and First Communion requiring one prior consecutive year of religious education through the parish religious education program before the year of preparation for the sacraments.  This usually takes place in first and second grade, with the child receiving First Communion at the end of his second grade year.
Children receiving religious education in a diocesan recognized Catholic school still need to participate in the second year of the parish program.
The child's first year class will be determined by age and prior religious education.  Children must be 7 to start the second year of preparation.
It is recommended that you contact the director of religious education if you have any questions about how the two year program will work for your family.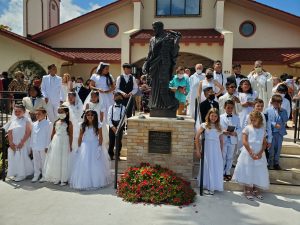 First Communion Class Policies
In addition to their sacramental preparation in the parish religious education program, there are aspects of the program which are completed at home. A full and complete preparation for the sacraments requires family prayer and family attendance at Sunday Mass. To help ensure this is happening, children are expected to complete a Mass worksheet each week and participate in class discussion about the Sunday liturgy.  Children are also tested by their catechists on required prayers.
To register please go the the link below to register online.  If your child was not baptized at San Marco, we will need an official sealed copy of your child's baptism certificate as well.
With the registration, we will also need the following forms filled out each year:
One per Family (for all San Marco Parish classes and programs – youth ministry, religious education, children's choir, altar servers)